Magnetic Metal Pen
 If you enjoy tinkering with things or are fascinated with the power of magnets, then this product is for you.
It's also a Perfect gift to your friend. A novelty pen & toy, he/she definitely loves it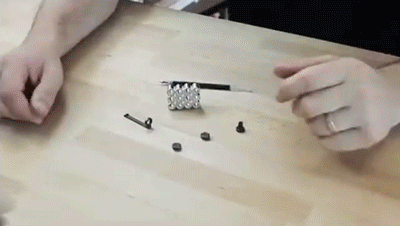 Features:
This magnetic pen is not just a pen, it's also a finger fidget toy, It can rotated and transformed into a variety of creative, free combination, multiple and diverse play.

New Electroplating high quality metal material, environmental protection and health, can be used safely.

Two Stylus Head, one for writing and one for mobile phone screen touch.

A perfect toy for kids, teacher, student, engineer, doctor, lawyer, designers and other brain-workers.

It has 13pcs magnetic rings, and 12pcs Steel balls, 2pcs refills, 2pcs capacitor head, etc.
Package includes:
Basic version: 13*magnetic tubes , 11*steel balls , 1*refills , 1*pen cap ,1*pen clip , 1*pen head cover , 1*capacitor head

High-end version:14*magnetic tubes , 30*steel balls , 5*refills , 2*pen cap ,1*pen clip , 1*pen head cover , 2*capacitor head