😍

Hang Curtains In Seconds...

 😍
Ensure your curtains meet the wall seamlessly for full blackout effect with self-adhesive rod brackets. Protect your wall from damage by screws and anchors during installation.

Lightweight and compact rod brackets enable flexible installation. Perfect for home decorations and improvements by hanging beautiful curtains or towels. Hanging blackout curtains is also an option for extra privacy.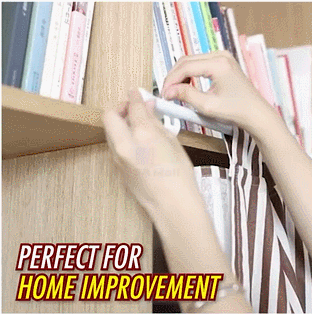 Features:
Strong adhesive brackets guaranteed safety usage.

Easy installation. Simply stick to the wall and remove it with no residue left.

Universal usage. Fits rods with 15-22mm diameter.

Damp-proof, anti-corrosive and durable.

Can hold up to 10kg of weight (for a pair of brackets)

Perfect for home improvement. It applies flat latex wall paint brush furniture, household appliances, smooth glass, mirrors, tiles, marble, stainless steel.
Specification:
Color: White
Material:  plastic
Size: 32×42×45cm
Weight: 35g
Packing: OPP bag
Package Includes:
Notice:
Use a nail to fix things more than 2kg.
        
Tips:
Be sure to clean the pasted surface, be sure to clean the stain, grease, moisture, dust, before pasting.

Paste the need to press tight 10 seconds or more, do not hang anything good after pasting, over 24 hours before use.