The outdated way of cutting wrapping paper has never worked, because the slice is either jagged, ripped, or crooked. This is frustrating.
✨Now use our Gift Wrapping Paper Cutter, to open a safe and easy way for cutting wrapping paper.🎁🎁🎁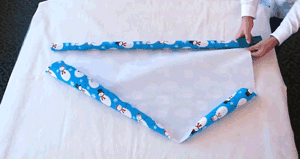 FEATURES
❤️【PERFECT TOOL】Made of sturdy plastic, lightweight and convenienc, ergonomic tube handle, easy to operate for kids or has difficulty with fine motor skills
❤️【SAVE TIME】The Sliding Paper Cutter will save a ton of time off your holiday gift wrapping works. Instead of using outdated cutting methods you can use the this Sliding Paper Cutter for getting silky smooth wrapping paper cuts.
❤️【EASY USE】It is flexible so it can be used on any size roll of paper. Its blade angle is perfect, it's safety features and simplicity. Safety embedded blade design: Not lik scissors tools, it protects fingers away from any dangerous operation, no more worries for children use.
WORK STEP
Slide Wrapping Paper Cutter over the wrapping paper. Remember the device is flexible so it can be used on any size roll of paper.
Pull a sheet of paper through the larger slot in the device.
Once the sheet of paper is the desired length, slide Wrapping Paper Cutter to the end of the roll allowing the paper to drop into the slot where the blade is embedded.
Now gently push Wrapping Paper Cutter forward to cleanly cut the paper.
Once the slice is complete, simply bring Wrapping Paper Cutter back to the center of the wrapping paper. It doubles as an organizer! Your paper will not roll away or become unorganized.
SPECIFICATIONS
Item weight

: 60g
Material:

ABS & Stainless Steel

Color:

Random

Size: 2.36" x 2.36" x 3.93"
PACKAGE INCLUDED