Some people like to cut their grapes and add them to other dishes, or perhaps have small children that need them cut up to prevent choking. This Grape Slicer easily cuts grapes into 4 even slices.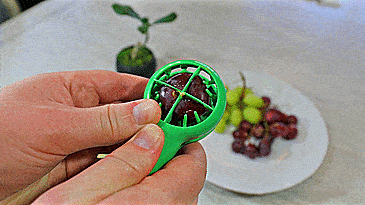 FEATURES:
GREAT ADDITION TO YOUR KITCHEN TOOLS

: Perfect to slicing grapes for fresh chicken salad, tossed salads, baked treats and other delicious snacks.

EASY TO USE:

Simply place grapes in the slicer and squeeze handles together to cut even sized slices.

CUT GRAPES FOR SALADS WITH EASE

: Cutting grapes is now easy and hassle free. This grape slicer allows you to efficiently slice grapes quickly.

MAKE GRAPES EASY TO SNACK ON:

This grape slicer allows you to cut grapes into smaller, safer bites for children.

DISHWASHER SAFE:

This product is dishwasher safe, making clean up quick and easy.
Using the grape slicer is as simple as it gets, just spread the arms of the grape slicer, put a grape between the arms, and squeeze down. You'll then be left with 4 perfectly even slices of a grape that you can add into dishes or feed to your toddlers without worries of choking.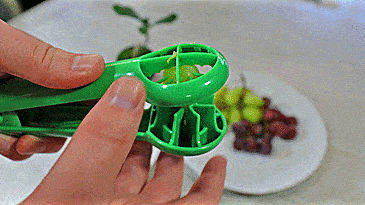 PACKAGE INCLUDED: